Welcome!

Topsfield Fair 2005
Baking Contests
Jannine's Entries and Results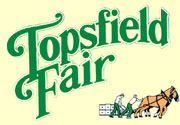 America's oldest agricultural fair
Click on the logo above to visit the Fair's website

Hello again, folks!
It's that time of year again!!



So many of my faithful supporters have asked me to post results and photos
from this year's competitions, so as promised, here they are!

But first, a little history ...

The Topsfield Fair is America's oldest agricultural fair.
It was founded in 1818, when a small non-profit organization known as
The Essex Agricultural Society was officially granted a charter.
The Society (which owns the Fair) was formed by a group of
"practical farmers" that shared one common goal:
"To promote and improve the agricultural interests
of farmers and others in Essex County."
The fair has been held every October since 1820, with the exception of three years
during the Civil War and three years during World War II,
when it was suspended both times by government decree.
Topsfield Fairgrounds sits in Topsfield, MA on the former Treadwell Farm property.
Dr. John Goodhue Treadwell of Salem bequeathed the farm to
the Agricultural Society in 1858, for the "promotion of the science of agriculture."

If you have any trouble viewing this site
or if you have comments or questions,
please click the button below to email me:
scritchme@aol.com
Thanks and enjoy!

To view the first set of entries and results,
click below: