Kitty Number Three:
Heeeeeeeeeere's Lucy!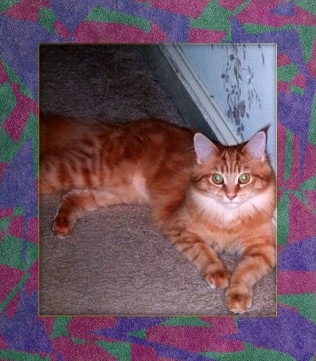 Name: Lucy
Aliases: Lucy Goosey Girl, Lucindadora, Lucy Furski
Birthdate: January 18, 1999
Breed: Maine Coon
Sex: Female
Coloring: Red Classic Tabby
Distinguishing Marks:
Razor-sharp claws that she keeps in shape by using her scratching
pads and posts (good girl!) She also has extremely long "tips" (the fur at the end of her
ears) and a big, bushy striped tail.
Unusual Habits/Traits:
Lucy loves to snuggle and will purr for hours on end. She is obsessed with trying
to chew on anything plastic - especially pens and plastic bags
from the grocery store (I swear she is part goat!). Since those don't make
very safe toys, she gets little fur mice instead and she loves to bite the tails
off of them. (Hmmm, now that I think of it, I never find the tails ...
I wonder where they end up!?)
Place Last Seen:
Lucy spends a lot of time sitting on my lap but she can also be found snoozing
in her basket, sitting in the kitchen window chasing the birds, and begging
for treats (one of these days she'll probably figure out how to open the jar!)
Bio:
Lucy is probably the sweetest cat on four paws! She has a wonderfully calm
and friendly purrsonality. She will always greet you at the door with a big "meow" and
flop on the floor for a belly-rub. She loves playing with Jasmine ... chasing her around
the house and play-fighting with her.
Other Information:
I found and fell in love with Lucy at a pet show in Boston on Halloween of 1999.
Because she was 9 months old at the time (and past her prime in "kittenhood")
she was sold at a reduced rate.
For a kitty that was on the "clearance" rack, she sure was a wonderful find!
Registrations:
Lucy is officially registered with the
and
as
Miss Lucy Von Purr
Mother: Purrrgatory Stella Luna
Father: Ch Colocoon's Ugo of Catz-Azz
and was purchased from
Donna Borges
Dracut, MA
Lucy's Helpful Hint:

A great web sight dedicated to keeping your munching kitty
safe from toxic plants and other hazards ... both indoors and out!
Click the photo below to enter
Lucy's Photo Gallery!

Back to Ameowica's Most Wanted